I came back from Nairobi this afternoon.
We had the easter break in Kenya and I went to Nairobi for
the welcome party for new Volunteer group of JOCV.
It was the first time after we were sent to each designated place.
Actually, it's only 40 days since then, but still definitely we've changed
in our mind and our body. Some friends (somehow, only GUYS) lose
their weight. Some people got tanned including me. Some people
looked so happy because we can take hot shower without no preparation
such as heating water.
Other than that, I enjoyed chatting with friends, great food, and shopping.
I talked with friends a lot with milk tea. Because everyone has different background,
it's so fun to talk with them.
I could get chopsticks (I really needed.) and other Asian food that I cannot get
in Naivasha. My meals might be better than before:)
I saw several souvenirs and thought that our org. needs to improve quality and
design of goods seriously. Our budget for activities other than USAID supports is
totally in red right now. My friends gave me advice that I need to buy some of them
for sample and show them what people want. Definitely, I need to talk with Catherine (director).
When I came back from supermarket, a small girl asked me to "donate" money for
her school tuition or something like that. At first, I say no. Basically, because of my belief,
I don't give money for people on the street. But she followed me and kept talking to me.
Somehow, I thought that this time, I would give money for her. That might be because I
didn't want to being "cold" person all the time. As I wrote, I have belief and I just always follow it. But sometimes it's a bit hard to keep believing without any evidence of my belief.
So I just gave up it this time and gave her Ksh 200 (almost USD 3 or so).
And what happened? I feel bad now. I don't know why, but I cannot stop thinking about it.
1. I asked her about what that donation for, but her answer was not clear.
One of the reasons is that she cannot understand English. I should have spoken
Swahili to her.
2. I should have talked with her more. I was with friends, but it can't be a reason.
That money could be picked up by her boss and she may keep exploited by bad adults.
Or she could misunderstand that if she keeps asking someone, they might give mer money,
and she might not work properly near future.
What I'm talking about isn't money. About a girl's future.
Instead of money, I want to give children education, opportunities to change their life,
and dreams, etc etc.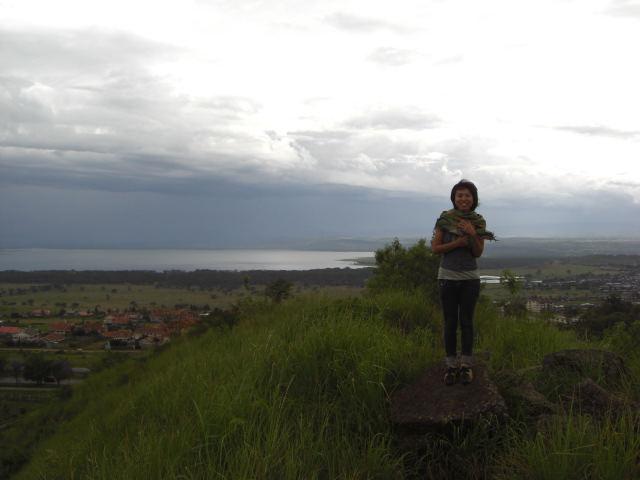 青年海外協力隊21-3でケニアのナクルで生活しています。家のそばからナクル湖が見えて、シーズンになるとフラミンゴで湖の端がピンク色に染まるのが見えます。
by enoringo
最新の記事
帰国日の朝
at 2012-04-03 14:20